2019 Final e-exams Timetable
Kindly download 2019 first semester E-exam Final Time Table Complete from here
1
10 Fri 05
AEM202
INTRODUCTION TO RURAL SOCIOLOGY
AGR202
INTRODUCTION TO AGRIC. ENGINEERING
GST202
FUNDAMENTALS OF PEACE STUDIES AND C
HCM235
FOOD BEVERAGE & COSTS
HCM131
INTRODUCTION TO HOSPITALITY MANAGEM
PED221
DEVELOPMENTAL PSYCHOLOGY
ECE112
ORIGIN AND DEVELOPMENT OF E.C.E
ECE113
INTRODUCTION TO PHILOSOPHY OF EARLY
ECE227
ORGANIZATION AND SERVICE PROVISION
NSC106
MEDICAL MICROBIOLOGY AND PARASITOLO
PED230
INTRODUCTION TO MUSIC IN PRIMARY SC
PHS202
NUTRITION IN HEALTH AND DISEASE
BED212
FUNDAMENTALS OF DATA PROCESSING
NSC203
HUMAN PHYSIOLOGY II
EHS204
INTRODUCTION TO ENVIRONMENTAL HEALT
2
11 Sat 05
GST102
USE OF ENGLISH AND COMMUNICATIONS SKILLS
ARD251
INTRODUCTION TO AGRICULTURAL ECONOM
HCM135
INTRODUCTION TO FOOD & BEVERAGE SER
FRM211
FORESTRY AND WILDLIFE MANAGEMENT
HCM237
HOSPITALITY SALES AND MARKETING
ANP204
INTRODUCTION TO AGRICULTURAL BIOCHE
EDU240
MATHEMATICS METHODS
ECE221
LANGUAGE AND LITERACY IN THE EARLY
EDU214
PHILOSOPHY OF EDUCATION
PED122
PRIMARY ENGLISH CURRICULUM AND METH
BED111
KEYBOARDING
PED233
RELIGIOUS AND MORAL EDUCATION
PED120
PRINCIPLES OF FAMILY LIVING
SED225
NIGERIAN INTEGRATED SCIENCE CURRICU
PHS204
INTRODUCTION TO SOCIOLOGY
NSC102
HUMAN ANATOMY I
NSS214
HUMAN PHYSIOLOGY FOR NURSES II
PHS210
INTRODUCTION TO BIOSTATISTICS
3
13 Mon 05
GST204
ENTREPRENEURSHIP AND INNOVATION
GST302
BUSINESS CREATION AND GROWTH
SLM201
PRINCIPLES OF SOIL SCIENCE
VTE115
INTRODUCTION TO VOCATIONAL EDUCATIO
SOS201
PRINCIPLES OF SOIL SCIENCE
HCM231
INTRODUCTION TO FOOD & BEVERAGE PRO
EDU220
ENGLISH METHODS
BED112
WORD PROCESSING
PED112
READING IN EARLY CHILDHOOD AND PRIM
ECE120
DEVELOPMENT OF APPROPRIATE SKILLS I
EDU231
CURRICULUM DEVELOPMENT THEORY AND P
SED123
PHYSICS FOR INTEGRATED SCIENCE
NSC111
Foundation of Nursing
NSS201
FOUNDATIONS OF NURSING
4
14 Tue 05
GST101
USE OF ENGLISH AND COMMUNICATIONS S
FST202
PRINCIPLES OF FOOD SCIENCE AND TECH
ARD201
PRINCIPLES OF AGRICULTURAL EXTENSIO
AGR201
GENERAL AGRICULTURE
PED232
AESTHETIC EXPRESSION IN PRIMARY EDU
HCM146
THE CULTURE HERITAGE
EDU256
PHYSICS METHODS
PED144
PRIMARY MATHEMATICS CURRICULUM METH
HCM234
FACILITY MAINTENANCE MANAGEMENT
PED235
CLOTHING AND TEXTILES
SED122
CHEMISTRY FOR INTEGRATED SCIENCE
ECE121
CHILD DEVELOPMENT
ECE231
SCIENCE IN THE EARLY YEARS
EDU233
GENERAL TEACHING METHODS
NSC108
MEDICAL BIOCHEMISTRY I
NSC208
NURSING ETHICS AND JURISPRUDENCE
NSC201
HUMAN ANATOMY II
NSS213
HUMAN PHYSIOLOGY FOR NURSES I
EHS212
POLLUTION CONTROL
EHS202
INTRODUCTION TO ECOLOGY AND ENVIRON
5
15 Wed 05
GST201
NIGERIAN PEOPLE AND CULTURE
HCM244
TOURISTS SITES: PRODUCTS AND OPERAT
AFS220
INTRODUCTION TO FISHERIES AND WILDL
HCM133
AGRICULTURE NUTRITION & HEALTH
ANP201
INTRODUCTION TO BIOTECHNOLOGY
HCM239
MENU PLANNING & CATERING SERVICES
EDU111
FOUNDATION OF EDUCATION
HCM141
UNDERSTANDING TOURISM
EDU290
EARLY CHILDHOOD EDUCATION METHODS
ECE225
MEETING SPECIAL NEEDS IN E.C.E
EDU112
PROFESSIONALISM IN TEACHING
BED114
BUSINESS METHODS
PED261
PRIMARY SCHOOL SOCIAL STUDIES CURRI
PED121
CHILDHOOD AND ADOLESCENT PSYCHOLOGY
NSS211
HUMAN ANATOMY
SED221
BIOLOGY FOR INTEGRATED SCIENCE
EHS206
HYGIENE EDUCATION AND PROMOTION
NSC207
MEDICAL BIOCHEMISTRY II
6
16 Thur 05
GST203
INTRODUCTION TO PHILOSOPHY AND LOGI
GST104
USE OF LIBRARY
AEM203
INTRODUCTION TO HOME ECONOMICS EXT.
HCM145
GEOGRAPHY OF TOURISM
ARD203
INTRODUCTION TO HOME ECONOMICS
AFS202
PRINCIPLES OF FOOD SCIENCE TECHNOLO
EDU252
CHEMISTRY METHODS
ECE123
HEALTH CARE IN THE EARLY YEARS
ECE223
PLAYS AND LEARNING
EDU280
AGRICULTURAL SCIENCE METHODS
PED236
ELEMENTARY MATHEMATICS
SED211
ASSESSMENT AND EVALUATION IN INTEGR
NSC210
INTRODUCTION TO SOCIOLOGY II
PHS217
GENERAL MICROBIOLOGY
EHS210
BIODIVERSITY AND CLIMATE CHANGE
7
17 Fri 05
GST103
COMPUTER FUNDAMENTALS
HCM142
TOURISM AS AN INDUSTRY
HCM238
INTRODUCTION TO FOOD & BEVERAGE PRO
EDU282
BUSINESS EDUCATION TEACHING METHODS
SOS203
INTRODUCTION TO AGRO-CLIMATOLOGY
HCM144
TOURISM MARKETING
EDU254
INTEGRATED SCIENCE METHODS
EDU114
HISTORY OF EDUCATION IN NIGERIA
ECE232
OBSERVATION RECORDING AND ASSESSMEN
BED214
COMPUTER APPLICATION IN BUSINESS
SED222
CHEMISTRY FOR INTEGRATED SCIENCE
SED224
ENERGY AND MATTER
PED110
PHILOSOPHY OF PRIMARY EDUCATION
PED237
MEASUREMENT AND SHAPES
PED271
PRIMARY SCHOOL PHE CURRICULUM & MET
EHS205
CLIMATE CHANGE AND CONTEMPORARY ISS
NSS217
INTRODUCTION TO SOCIOLOGY
NSC204
EPIDEMIOLOGY
NSC206
ENVIRONMENTAL HEALTH
8
18 Sat 05
GST107
A Study Guide for the Distance Learner
HCM134
FOOD & NUTRITION
ARD202
INTRODUCTION TO RURAL SOCIOLOGY
GST707
A Study Guide for the Distance Learner
AEM251
INTRODUCTION TO AGRICULTURAL ECONOM
HCM232
MENU DEVELOPMENT & PLANNING
GST807
A Study Guide for the Distance Learner
PED150
PRIMARY SCIENCE CURRICULUM AND METH
HCM136
INTRODUCTION TO FOOD & BEVERAGE SER
EDU250
SUBJECT METHOS I (BIOLOGY)
ECE222
DEVELOPING PROFESSIONAL SKILLS AND
ECE110
CHILDHOOD EDUCATION IN TRADITIONAL
SED226
INDUSTRIAL PROCESSES/ APPLICATION
EDU292
PRIMARY EDUCATION METHODS
PED234
MAN ENERGY AND RESOURCES
SED214
HISTORY AND PHILOSOPHYOF INTEGRATED
NSS203
GENERAL AND CELLULAR PATHOLOGY
PHS203
INTRODUCTION TO PUBLIC HEALTH
NSC202
HUMAN ANATOMY III
NSC205
CELLULAR AND GENERAL PATHOLOGY
9
20 Mon 05
GST105
HISTORY & PHILOSOPHY OF SCIENCE
AGR203
PRINCIPLES OF CROP PRODUCTION
HCM243
TOURISTS SITES: PRODUCTS AND OPERAT
AGR205
INTRODUCTION TO AGRO-CLIMATOLOGY
ANP202
PRINCIPLES OF ANIMAL PRODUCTION
HCM147
TOURISM POLICY AND PLANNING
HCM236
BEVERAGE MANAGEMENT
HCM241
UNDERSTANDING TOURISTS AND HOSTS
AEM201
PRINCIPLES OF AGRICULTURAL EXTENSIO
EDU258
COMPUTER SCIENCE METHODS
EDU212
SOCIOLOGY OF EDUCATION
ECE230
INTRODUCTION TO EARLY CHILDHOOD EDU
PED130
INTRODUCTION TO SOCIAL STUDIES
SED223
PHYSICS FOR INTEGRATED SCIENCE
SED121
BIOLOGY FOR INTEGRATED SCIENCE
EDU222
FRENCH METHODS
NSC104
HUMAN PHYSIOLOGY I
BED113
FUNDAMENTALS OF BUSINESS EDUCATION
PHS201
ANATOMY
NSC209
PHYSICAL AND HEALTH ASSESSMENT
10
21 Tue 05
CRD124
INTRODUCTION TO COOPERATIVES
ACC203
INTRODUCTION TO FINANCIAL ACCOUNTIN
CRD206
ECONOMICS FOR CO-OPERATIVES
BFN203
BASIC FINANCIAL LITERACY
CHM205
INORGANIC CHEMISTRY II
CIT208
INFORMATION SYSTEMS
CIT204
Computer Appreciation And Application To Agriculture
MTH210
INTRODUCTION TO COMPLEX ANALYSIS
BIO201
GENETICS I
PHY192
INTRODUCTORY PRACTICAL PHYSICS II
ESM106
ENVIRONMENTAL RESOURCE MANAGEMENT
PHY191
INTRODUCTORY PRACTICAL PHYSICS I
BIO220
FISHERIES AND WILDLIFE
CRS142
CHURCH HISTORY II
MTH204
Mathematics for Nurses
DAM205
DATA COLLECTION METHODOLOGY
ISL101
GENERAL INTRODUCTION TO ISLAM
MTH106
MATHEMATICS FOR MANAGEMENT SCIENCES
PHY207
THERMODYNAMICS
PCR276
PERCEPTION AND CONFLICT
ISL231
INTRODUCTION TO THE SHARIAH
ISL213
TEXTUAL STUDY OF THE QURAN
INR262
INTERNATIONAL MIGRATION II
ECO255
MATHEMATICS FOR ECONOMIST 1
ARA181
BASIC ARABIC
MAC132
PRINCIPLES OF ADVERTISEMENT SALES P
CSS133
INTRODUCTION TO CRIMINOLOGY I
CSS121
INTRODUCTION TO PSYCHOLOGY OR
ECO146
THE NIGERIAN ECONOMY IN PERSPECTIVE
MAC212
MEDIA AND SOCIETY
POL212
BASIC STATISTICS FOR SOCIAL SCIENCE
INR261
INTERNATIONAL ENVIRONMENTAL POLITIC
11
22 Wed 05
ACC101
ELEMENTS OF BOOK-KEEPING I
BUS207
BUSINESS COMMUNICATION
MKT201
ELEMENT OF MARKETING (PRINCIPLES)
PAD251
INTRODUCTION TO SOCIAL PSYCHOLOGY
BIO209
CHORDATES
MTH281
MATHEMATICAL METHOD I
BIO204
BIOLOGICAL TECHNIQUES
PHY204
ELECTROMAGNETISM
BIO102
GENERAL BIOLOGY II
CIT213
ELEMENTARY DATA PROCESSING
ESM204
ENVIRONMENTAL HAZARDS AND DISASTER
ENG211
HISTORY OF THE ENGLISH LANGUAGE
CHM101
INTRODUCTORY INORGANIC CHEMISTRY I
FRE101
FRENCH GRAMMAR I
FRE152
INTRODUCTION TO FRENCH CULTURE AND
ENG121
STRUCTURE OF MODERN ENGLISH I
FRE801
FRENCH GRAMMAR I
CRS122
TYPES OF THEOLOGY
CRS231
CHRISTIAN ETHICS
CRS151
RELIGION AND SOCIETY
CRS212
PENTATEUCH
FRE212
ADVANCED ORAL FRENCH
ARA182
ARABIC READING
ISL111
STUDIES ON THE QUR_AN
POL111
ELEMENTS OF POLITICAL SCIENCE
ENG224
ADVANCED ENGLISH COMPOSITION II
CSS111
INTRODUCTION TO SOCIOLOGY
ECO253
STATISTICS FOR ECONOMIST I
TSM141
UNDERSTANDING TOURISM
MAC142
INTRODUCTION TO RADIO AND TELEVISIO
INR251
EVOLUTION OF MODERN INTERNATIONAL S
MAC246
EDUCATIONAL BROADCASTING
MAC211
THEORIES OF MASS COMMUNICATION
CSS241
BASIC SECURITY AND SECURITY THREATS
PCR115
INTRODUCTION TO CONFLICT RESOLUTION
POL226
ORGANIZATION AND ADMINISTRATIVE THE
PCR274
INTRODUCTION TO CONFLICT TRANSFORMA
POL214
INTRODUCTION TO POLITICAL ANALYSIS
TSM244
TOURIST SITES: PRODUCTS & OPERATION
12
23 Thur 05
MKT205
ENTREPRENEURIAL MARKETING
ACC204
INTRODUCTION TO FINANCIAL ACCOUNTING
ENT204
ENTREPRENEURSHIP AND CHANGE MANAGEMENT
ESM112
INTRODUCTORY ECOLOGY
ENT101
INTRODUCTION TO ENTREPRENEURSHIP
BIO101
GENERAL BIOLOGY I
BIO208
SEEDLESS PLANTS
MTH102
ELEMENTARY MATHEMATICS II
BIO215
GENERAL BIOCHEMISTRY LABORATORY 1
CIT143
INTRODUCTORY TO DATA ORGANISATION A
CHM201
PHYSICAL CHEMISTRY II
MTH212
LINEAR ALGEBRA II
ESM236
ENVIRONMENTAL MICROBIOLOGY
PHY203
OSCILATIONS AND WAVES
FRE222
FRENCH GRAMMAR AND COMPOSITION II
PHY208
NETWORK ANALYSIS AND DEVISES
ESM211
GLOBAL ENVIRONMENTAL ISSUES
ISL113
QUR_ANIC ETHICS
ENG162
ELEMENTS OF DRAMA
ENG281
THE AFRICAN NOVEL
LIN111
INTRODUCTION TO LINGUISTICS I
ENG251
LANGUAGE AND SOCIETY
CRS173
INTRODUCTION TO THE STUDY OF RELIGI
PCR272
CONCEPT AND PRACTICE OF PEACE BUILD
CRS192
INTRO. TO AFRICAN TRADITIONAL RELIG
CRS233
PHILOSOPHY OF RELIGION
CSS112
SOCIOLOGY OF LAW
CRS272
ECUMENISM
ISL241
PROPHETHOOD AND THE PROPHETS IN ISL
INR221
HISTORY AND PRACTICE OF DIPLOMACY
ECO121
PRINCIPLES OF ECONOMICS 1
FRE111
LANGUAGE LABORATORY WORK/ORAL FRENC
MAC134
PRINCIPLES AND PRACTICE OF PUBLIC R
INR162
INTERNATIONAL MIGRATION I
POL221
NIGERIAN GOVERNMENT & POLITICS
TSM221
ECOTOURISM
CSS245
SECURITY PLANNING DEVELOPMENT AND O
INR121
STRUCTURE OF THE INTERNATIONAL SYSTEM
MAC213
FOUNDATION OF COMMUNICATION RESEARCH
13
24 Fri 05
ENT208
BIOGRAPHICAL STUDIES OF ENTREPRENEU
BFN207
BASIC FINANCIAL LITERACY
ENT202
INTRODUCTION TO ENTREPRENEURIAL VEN
CHM204
STRUCTURE ANDBONDING
CHM192
INTRODUCTORY PRACTICAL CHEMISTRY II
BUS105
ELEMENTS OF MANAGEMENT I
CIT211
INTRODUCTION TO OPERATING SYSTEMS
BIO207
LOWER IN VERTEBRATES
BIO210
SEED PLANTS
PHY205
INTRODUCTION TO SPACE PHYSICS
MTH213
NUMERICAL ANALYSIS I
BIO191
GENERAL BIOLOGY PRACTICAL I
STT102
INTRODUCTORY STATISTICS
ISL121
STUDIES ON THE HADITH
MTH251
MECHANICS
ENG111
AN INTRODUCTION TO LITERATURE AND L
CRS141
CHURCH HISTORY I
ESM206
COMMUNITY PARTICIPATION IN ENVIRONM
ENG221
INTRODUCTION TO SYNTACTIC MODELS
FRE121
TEXTUAL ANALYSIS /PRACTICAL FRENCH
ENG212
CREATIVE WRITING I
FRE162
INTRODUCTION TO FRANCOPHONE AFRICAN
INR242
PRE-COLONIAL AFRICAN DIPLOMACY
CRS152
MARRIAGE AND FAMILY
FRE282
INTRODUCTION TO FRENCH LITERATURE (
INR132
AFRICA AND THE WESTERN POWERS
CRS214
PAULINE EPISTLES
CRS213
SYNOPTIC GOSPELS
MAC221
EDITING & GRAPHICS OF COMMUNICATION
ARA281
ARABIC LITERATURE I
ISL245
ILM _L-KALAM AND DEVELOPMENT OF MUS
PCR114
INTRODUCTION TO CONFLICT RESOLUTION
ECO292
ENVIRONMENTAL ECONOMICS
POL123
INTRODUCTION TO PUBLIC ADMINISTRATI
POL223
FOUNDATION OF POLITICAL ECONOMY
CSS134
GEOGRAPHY OF NIGERIA
TSM243
TOURIST SITES: PRODUCTS & OPERATIO
MAC116
AFRICAN COMMUNICATION SYSTEMS II
14
25 Sat 05
ENT209
THEORY OF ENTREPRENEURSHIP
CRD101
PRINCIPLES AND PRACTICE OF CO-OPERA
ACC206
INTRODUCTION TO COST & MANAGEMENT A
CIT212
SYSTEMS ANALYSIS AND DESIGN
CHM202
ANALYTICALCHEMISTRY I
ENT102
THE NIGERIAN ENTREPRENEURIAL ENVIRONMENT
PHY101
ELEMENTARY MECHANICS HEAT ANDPROPE
CIT246
INTRODUCTION TO COMPUTER ORGANISATI
MTH101
ELEMENTARY MATHEMATICS I
BIO212
HELMINTHOLOGY
STT206
STATISTICS FOR MANAGEMENT SCIENCES
ESM102
THE NIGERIAN ENVIRONMENT
ESM221
ECOTOURISM
CIT102
SOFTWARE APPLICATION SKILLS
PHY291
PHYSICS LABORATORY 1
CRS216
GREEK SYNTAX
ENG241
INTRODUCTION TO PHONETICS & PHONOLO
ESM238
AIR PHOTO INTERPRETATION
FRE211
ADVANCED STUDY IN ORAL AND WRITTEN
FRE131
TEXTUAL ANALYSIS I
BIO213
CHEMISTRY OF AMINO ACIDS AND PROTEI
ARA283
ARABIC READING II
CRS111
OLD TESTAMENT (O.T) SURVEY
ENG113
INTRODUCTION TO NIGERIAN LITERATURE
INR222
EUROPE FROM FRENCH REVOLUTION TO TH
ISL102
MOSQUE IN ISLAM
CRS271
CHRISTIANITY IN NIGERIA
ECO122
PRINCIPLES OF ECONOMICS II
ECO231
MICRO ECONOMIC THEORY I
ISL271
THE RIGHTLY GUIDED CALIPHS AND THE
POL231
ESSENTIALS OF INTERNATIONAL RELATIO
INR122
CONCEPTS IN INTERNATIONAL RELATIONS
CSS132
ETHNOGRAPHY OF SOCIAL STRUCTURE OF
MAC121
INTRODUCTION TO NEWS WRITING & REPO
TSM144
TOURISM MARKETING
PCR211
EDUCATION FOR PEACE
CSS212
THE SOCIOLOGY OF PUNISHMENT AND COR
JLS111
INTRODUCTION TO JOURNALISM
MAC223
MAGAZINE & FEATURE ARTICLE WRITING
15
27 Mon 05
BUS205
INTRODUCTION TO BUSINESS
MKT108
INTRODUCTION TO MARKETING
CRD208
NIGERIA & INTERNATIONAL COOPERATIVE
PAD122
INDUSTRIAL AND ORGANIZATION PSYCHOLOGY
BFN209
INTRODUCTION TO FINANCE
CIT215
INTRODUCTION TO PROGRAMMING LANGUAG
PHY202
MODERN PHYSICS I
CHM103
INTRODUCTION TO PHYSICAL CHEMISTRY
BIO205
INTRODUCTORY DEVELOPMENTAL CELL BIO
ESM212
TROPICAL CLIMATOLOGY
MTH211
ABSTRACT ALGEBRA I
ENG114
INTRODUCTION TO NIGERIAN LITERATURE
BIO206
STATISTICS FOR AGRICULTURE AND BIOL
CHM291
PRACTICAL CHEMISTRY III- INORGANIC
ENG226
ENGLISH MORPHOLOGY
FRE141
INTRODUCTION TO COMPOSITION WRITING
LIN112
INTRODUCTION TO LINGUISTICS II
CRS222
CHRISTIAN DOCTRINES
CRS131
INTRODUCTION TO PHILOSOPHY
ARA282
ARABIC GRAMMAR I
ISL132
ADVANCED STUDY OF SALAT AND ZAKAT
CRS211
INTRODUCTION TO THE BIBLE
ISL212
INTRODUCTION TO TAJWID
FRE122
TEXTUAL ANALYSIS/PRACTICAL FRENCH I
PCR112
DEMOCRACY AND GOOD GOVERNANCE OR
POL215
HISTORY OF POLITICAL THOUGHT I
INR212
INTERNATIONAL LAW AND DIPLOMACY IN
MAC225
NEWS WRITING & REPORTING
POL121
INTRODUCTION TO AFRICAN POLITICS
MAC117
WRITING FOR MASS MEDIA I
ECO232
MICRO ECONOMIC THEORY II
CSS242
MEASUREMENTS AND PATTERNS OF CRIMES
TSM142
TOURISM AS AN INDUSTRY
16
28 Tue 05
ENT203
INTRODUCTION TO ENTREPRENEURIAL FIN
MKT104
RETAIL MANAGEMENT
CRD120
SOCIOLOGY OF CO-OPERATION
ESM104
INTRODUCTION TO ENVIRONMENATAL SCIE
ACC201
TAXATION 1
STT205
STATISTICS FOR MANAGEMENT SCIENCES
CIT292
COMPUTER LABORATORY I
MTH103
ELEMENTARY MATHEMATICS III
CHM191
INTRODUCTORY PRACTICAL CHEMISTRY I
CHM292
PRACTICAL CHEMISTRY IV – PHYSICAL A
PHY201
CLASSICAL MECHANICS I
PHY102
ELECTRICITY MAGNETISM AND MODERN PH
DAM212
DATABASE LABORATORY
BIO214
STRUCTURE AND FUNCTIONS OF MAJOR CE
BIO211
COELOMATE INVERTEBRATES
ENG223
ADVANCED ENGLISH COMPOSITION I
ENG161
THEATRE WORKSHOP
ESM231
INTRODUCTORY TOXICOLOGY
ISL136
WOMEN IN ISLAM
FRE221
FRENCH GRAMMAR AND COMPOSITION I
MTH232
ELEMENTARY DIFFERENTIAL EQUATION 1
ISL214
TEXTUAL STUDY OF QUR_AN II
CRS113
BIBLE GEOGRAPHY
FRE102
FRENCH GRAMMAR II
INR231
SOUTH-SOUTH COOPERATION
CRS215
GREEK GRAMMAR
CRS202
COMPARATIVE STUDY OF RELIGIONS
ECO153
INTRODUCTION TO QUANTITATIVE METHOD
PCR271
UNDERSTANDING CONFLICTS AND WAR
ARA284
TRANSLATION: ARABIC / ENGLISH
MAC115
AFRICAN COMMUNICATION SYSTEMS I
CSS136
INTRODUCTION TO CRIMINOLOGY II
ENG216
SURVEY OF ENGLISH LITERATURE II
MAC214
INVESTIGATIVE & INTERPRETATIVE REPO
INR112
INTRODUCTION TO INTERNATIONAL LAW A
ECO247
THE NIGERIAN ECONOMY IN PERSPECTIVE
TSM147
TOURISM POLICY AND PLANNING
CSS244
TYPES AND ANALYSIS OF SECURITY THRE
17
29 Wed 05
MKT206
CUSTOMER RELATIONSHIP MANAGEMENT
BUS106
ELEMENTS OF MANAGEMENT II
CRD204
MAN & HIS ENVIRONMENT
BIO216
CHEMISTRY OF CARBOHYDRATES, LIPIDS
PAD202
INTRODUCTION TO PUBLIC ADMINISTRATI
BFN104
ELEMENTS OF BANKING
CHM102
INTRODUCTORY ORGANIC CHEMISTRY I
ESM222
WATER RESOURCE EVALUATION
BIO203
GENERAL PHYSIOLOGY 1
CHM203
ORGANIC CHEMISTRY II
PHY206
OPTICS I
MTH241
INTRODUCTION TO REAL ANALYSIS
CIT202
APPLICATIONS OF COMPUTER IN BUSINES
DAM207
INDEXING & CLASSIFICATION
ENG122
STRUCTURE OF MODERN ENGLISH II
ISL142
ISLAM AND INTER-RELIGIOUS DIALOGUE
ENG141
SPOKEN ENGLISH
FRE112
ORAL AND AURAL COMPREHENSION
ENG215
SURVEY OF ENGLISH LITERATURE I (MED
CRS217
PROPHETS
CRS101
INTRODUCTION TO THE STUDY OF ISLAM
FRE231
INTRODUCTION TO FRENCH PHONOLOGY
ARA183
ARABIC CONVERSATION
ISL222
TEXTUAL STUDIES OF HADITH
CRS218
BIBLICAL HERMENEUTICS
CSS211
SOCIOLOGY OF CRIME AND DELINQUENCY
POL126
CITIZENS AND THE STATE
INR211
INTERNATIONAL LAW AND DIPLOMACY IN
INR142
INTRODUCTION TO PUBLIC ADMINISTRATI
PCR111
INTRODUCTION TO PEACE STUDIES
ECO254
STATISTICS FOR ECONOMIST II
MAC232
ENVIRONMENTAL PUBLIC RELATIONS
MAC113
HISTORY OF NIGERIAN MASS MEDIA
POL216
EVOLUTION OF NIGERIAN LOCAL GOVERNM
TSM143
TOURISM SERVICES & OPERATIONS
CSS246
LEGAL AND SOCIAL FRAMEWORK OF PRIVA
TSM241
UNDERSTANDING TOURIST AND HOSTS
18
30 Thur 05
ACC210
AUDITING
CRD122
NIGERIA AGRICULTURE
ACC102
ELEMENT OF BOOK KEEPING II
BIO192
GENERAL BIOLOGY PRACTICAL II
MTH282
MATHEMATICAL METHODS II
BIO217
GENERAL MICROBIOLOGY
PHY103
GEOMETRICS ANDWAVE OPTICS
CIT104
INTRODUCTION TO COMPUTER SCIENCE
CIT237
PROGRAMMING & ALGORITHMS
STT211
PROBAILITY DISTRIBUTION I
PHY261
GEOPHYSICS I
MTH105
MATHEMATICS FOR MANAGEMENT SCIENCES
CIT236
ANALOG AND DIGITAL ELECTRONICS
ENG222
ADVANCED ENGLISH SYNTAX
ESM291
MAP ANALYSIS
ESM234
SOIL RESOURCES
ISL272
THE ABBASID CALIPHATE
ENG181
INTRODUCTION TO FICTION
BIO218
GENERAL BIOCHEMISTRY LABORATORY 11
INR111
INTRODUCTION TO INTERNATIONAL STUDI
FRE132
TEXTUAL ANALYSIS II
ENG151
INTRODUCTION TO ENGLISH AS A SECON
INR232
INTRODUCTION TO FOREIGN POLICY
CRS102
MAJOR RELIGIOUS GROUPS IN NIGERIA
CRS210
HISTORY AND RELIGION OF ISRAEL
ECO256
MATHEMATICS FOR ECONOMIST II
CRS261
CHRISTIAN COUNSELING
ISL172
AS-SIRAH: BIOGRAPHY OF THE PROPHET
MAC111
INTRODUCTION TO MASS COMMUNICATION
FRE271
INTRODUCTION TO FRANCOPHONE AFRICAN
PCR113
INTRODUCTION TO PEACE EDUCATION
PCR261
CULTURE VALUES AND CONFLICTS IN WAR
POL124
ORGANISATION OF GOVERNMENT
MAC242
FOUNDATIONS OF BROADCASTING
CSS243
PRINCIPLES OF SECURITY PRACTICE AND
ECO154
INTRODUCTION TO QUANTITATIVE METHOD
POL228
INTRODUCTION TO COMPARATIVE POLITIC
TSM145
GEOGRAPHY OF TOURISM
WASSCE for Private Candidates 2019
WASSCE for Private Candidates (2019) – First Series (January/February)
List of Approved Subjects
COMMERCE
FINANCIAL ACCOUNTING
CHRISTIAN RELIGIOUS STUDIES
ECONOMICS
GEOGRAPHY
GOVERNMENT
ISLAMIC STUDIES
LITERATURE IN ENGLISH
ENGLISH LANGUAGE
HAUSA
IGBO
YORUBA
FURTHER MATHEMATICS
GENERAL MATHEMATICS
AGRICULTURAL SCIENCE
BIOLOGY
CHEMISTRY
PHYSICS
CIVIC EDUCATION
ABA | UMUAHIA NORTH |
EKET | IBESIKPO | IKOT EKPENE | UYO | UYO SPECIAL |
YENAGOA |
GBOKO | MAKURDI | OTUKPO |
MAIDUGURI | MAIDUGURI SPECIAL |
ABULE EGBA/MEIRAN | AGBADO | AGEGE | AJEGUNLE | ALIMOSHO | APAPA | BADAGRY | EPE | ETI-OSA | FESTAC | IBEJU LEKKI | IFAKO/IJAIYE | IKEJA | IKEJA SPECIAL | IKORODU | IKOTUN | IPAJA | ISOLO | KOSOFE | LAGOS IKOYI/KIRIKIRI | LAGOS ISLAND | MAINLAND | MUSHIN | OJO | OKOTA | OSHODI | SABO | SHOMOLU | SURULERE |
A new language doesn't hamper kids learning. Other things do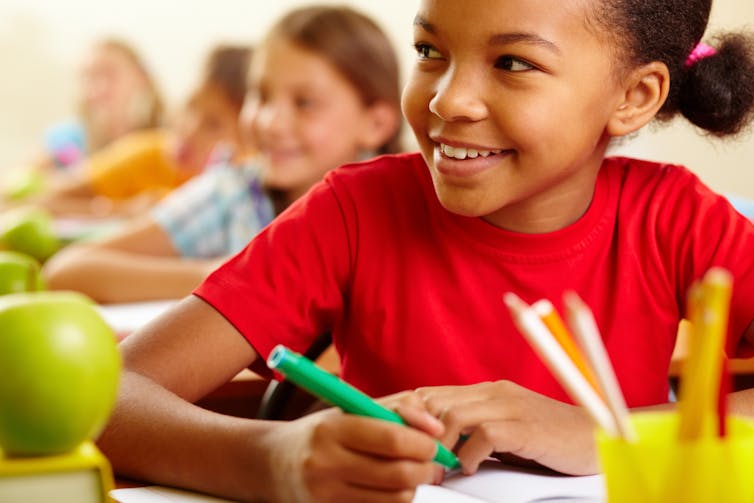 Michelle White, Stellenbosch University
South Africa is a linguistically and culturally diverse country. There are 11 official languages and several other minority languages. But English continues to be preferred as the language of learning and teaching.
Many South African children are still in the process of learning English by the time they first start going to school. In a single English-medium classroom, one can find children with various levels of English proficiency; from children with English as their mother tongue to children who have never learnt English before.
This situation poses a range of challenges for both the teacher and the children. One of the biggest challenges is that a certain level of proficiency in English is required for the children to be able to perform well academically in an English-medium school. It's a widely known fact that academic success is very much dependent on language competence and proficiency.
This means that there's a great need to understand how language develops in children's early school careers. It is also important to understand the cognitive mechanisms that underlie language learning. To further explore how this happens in the early years of schooling I did a study involving pre-primary children in an English-medium school in Cape Town.
The group consisted of children who were still learning English as well as children whose mother tongue was English. The children were very diverse – there was a total of nine different home languages in the group of children who were still learning English.
The findings showed that the ability of children to develop their language skills didn't depend on whether they were proficient when they started out. Their ability to learn and advance – or not – was in fact dependent on a range of other factors, none of which had to do with English language proficiency.
The findings
The research aimed to understand the link between language and working memory development. I did this by tracking how working memory developed for the children chosen to take part in the study.
Working memory is the ability to store and use information in the short-term and is important for our everyday lives. For example, we use working memory when we need to remember an address that we just heard while we are looking for a pen to write it down. Working memory also underlies many important academic competencies, like reading and mathematics.
The children were broken into two groups: those with English as their primary language, and those still learning English. They were given the same tasks; these were an English language assessment and working memory tasks. They were assessed three times over the course of the year – at the beginning, middle and end.
The results showed that both groups improved over the year on the assessment of English language abilities. The results also revealed that great improvements were made in language development during the first year of formal schooling. Results from the working memory tasks indicated that children who were still learning English, as well as the children who have English as their mother tongue, performed the same on these tasks and achieved comparable scores. Children in both groups saw their language abilities and working memory abilities improve over the year.
The most interesting finding is that the route, or trajectory, the children's cognitive and language development followed was the same for both groups, regardless of the English abilities they had at the beginning.
Importantly, the result that working memory scores between groups were comparable also indicated that the amount of knowledge of English that a child had didn't affect their working memory abilities.
What this points to is that, if a child's working memory scores are low and the trajectory of the development is not the same as their peers, there may be cause for concern. In this case, the children should be referred to an occupational or speech therapist for further assessment. Our research shows the fact that they're struggling can't simply be explained away as a "symptom" of the child not knowing English well enough.
Falling through the cracks
Studies like these are important for giving professionals better ways of seeing if a child has a disorder or is only struggling because they have not acquired a sufficient level of English yet.
In the context of a classroom with various languages and proficiencies of English, it is easy for a child with a disorder to be overlooked.
Along with the under-resourced schools and over-burdened teachers, heterogeneity among learners results in them not receiving the support that they need, be it academic or linguistic. Those whose primary language is English as well as those learning English suffer alike. The upshot is clearly seen in the worsening educational crisis in South Africa.

Michelle White, Postdoctoral Fellow, Stellenbosch University
This article is republished from The Conversation under a Creative Commons license. Read the original article.
Nigeria's universities are performing poorly. What can be done about it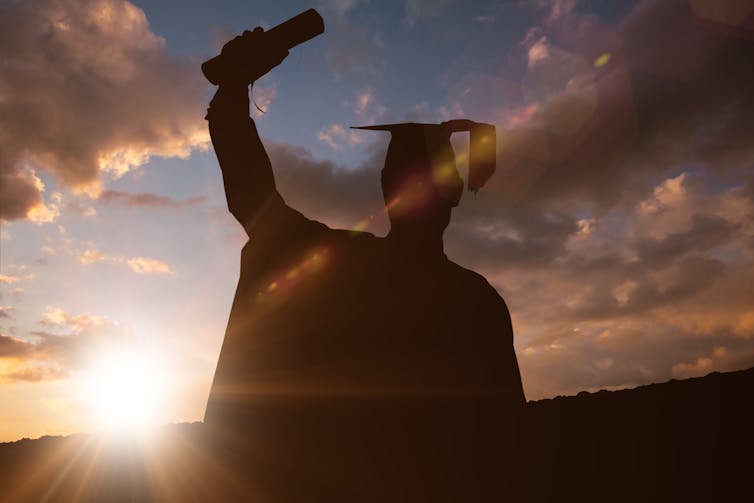 David Mba, De Montfort University
Why are Nigeria's universities in such a sorry state? Some would say it had to do with just one word: money. Sadly this is part of the reason. But not entirely.
Nigeria's universities have been under-funded for decades. Like a talented but under-achieving football team, fail to achieve goals because the country hasn't invested enough in their structure, their facilities and their people.
Higher education in Nigeria includes universities (federal, state and private) as well as polytechnics (skills-intensive and experiential learning programmes) and colleges of education. With over 160 universities, 128 polytechnics and 177 colleges of education, it constitutes the largest higher education system in Africa.
My colleague Professor Val Ekechukwu, the Dean of Engineering at the University of Nigeria, Nsukka, and I did a review of Nigeria's top 12 universities to assess their academic output. This review was undertaken as part of a comparative assessment of Nigerian universities to other emerging global economies (Brazil, Turkey and Thailand). The review hasn't been published in an academic journal but its contents have been made available to readers interested in the development of tertiary education in Nigeria via news outlets.
We found that the country's universities lag well behind equivalent emerging global economies like South Africa, Egypt, Thailand, Turkey and Brazil. They also lag behind traditional world leaders.
We sourced the data for our paper from SciVal. This tracks the research performance of over 10,400 research institutions from 230 countries.
The problems
Decades of under-funding in universities has had dramatic consequences. These include:
Nigeria's university system isn't big enough. The country's population is now pushing towards 200 million, over 60% of which is under the age of 25 years. Demand for university places vastly exceeds current capacity. In 2017, 380,000 domestic university applicants didn't get a university place.
Nigerian universities lack prestige. According to the 2019 Times Higher Education world university rankings, Nigeria has two universities in the world's top thousand – Covenant University and the University of Ibadan. This compares to nine from South Africa – out of a total of 26 in total – and 11 from Egypt.
Universities under-perform on research. According to our research, Nigeria's universities produce only 44% of the "scholarly output" of South Africa and 32% of Egypt. This is despite the fact that Nigeria has nearly four times more universities than Egypt and over six times more than South Africa.
The higher education sector loses local talent and fails to replace it. According to UNESCO data, over 60,000 of Nigeria's brightest students – equivalent to 375 students for each of our 160 universities – choose to study abroad. There's nothing intrinsically wrong with this. The trouble in Nigeria's case is that it fails to attract the equivalent in foreign students. It becomes a "brain drain" rather than the "brain exchange" it could be.
And yet, the education budget in Nigeria has seen little or no change over the last few years, and government funding of education remains low. In 2018, it was just over 7% of the national budget. This level of funding, as a percentage of the total budget, has remained stagnant since 2009 when it was 7.25%.
A widely-used international indicator to measure the level of investment in research is the Gross Domestic Expenditure on Research and Development. It's measured as a percentage of the total economic activity in a country or Gross Domestic Product.
The world average is a healthy 1.77%. But African countries lag behind. In South Africa it is 0.76% and in Egypt it's 0.4%.
Nigeria trails behind even its African equivalents at 0.2%.
How to fix the problem
Nigeria is Africa's biggest economy and most populous country. Why then, when it comes to university education, does it behave more like a backwater than the mainstream it should be? What can be done?
We would argue that improving the outcomes of Nigeria's universities requires investment, powered by a national strategic vision and matched with good governance.
The Nigerian University Commission has indicated that it intends to increase university capacity by supporting the creation of new private universities. But indications show that the commission hasn't focused on the level of scholarly output. Quantity is of limited use unless accompanied by quality.
Offering joint faculties or schools between foreign and local institutions would be another way of bringing investment into Nigerian universities. The foreign investment model has led to significant improvements in the quality of education in other countries, for example in Malaysia.
But turning to the international market for investment would require significant policy and governance changes within the Nigerian University Commission.
To improve university research activity, the proposed establishment of the National Research and Innovation Foundation as detailed in the Science, Technology and Innovation Policy of 2011, is now urgently required. An established research and innovation foundation could have responsibility to fund research and development across all subject areas, and monitor its quality.
It's vital that the strategic vision of the foundation is aligned with the economic objectives of the country. This will ensure the development of strong research in subjects critical to the economy.
Of course, decades of neglect will not be remedied in a year. There are competing demands for government funds, such as in areas from transport infrastructure to health. But there must be a strong political will to improve universities year on year, and make education a long-term priority.
Nigeria has just voted for a new government. Let us hope the new government has a vision for Nigeria's tertiary education – a vision that will give a youthful, vibrant Nigeria the universities it deserves.
Professor Val Ekechukwu, the Dean of Engineering at the University of Nigeria, Nsukka, contributed to the research.

David Mba, Pro Vice-Chancellor and Dean of Computing, Engineering and Media, De Montfort University
This article is republished from The Conversation under a Creative Commons license. Read the original article.